Next Gen Authorization Maintenance
You can perform maintenance activities as a Sertifi Admin or higher. Folder maintenance activities include:
Reviewing documents awaiting signature, or reviewing documents that have been signed

Reviewing authorization requests
View Authorizations in Folder Search
To quickly view a folder containing an authorization, start from your main portal screen. Click View.
If you have access to multiple workflows, you can then click View Authorizations.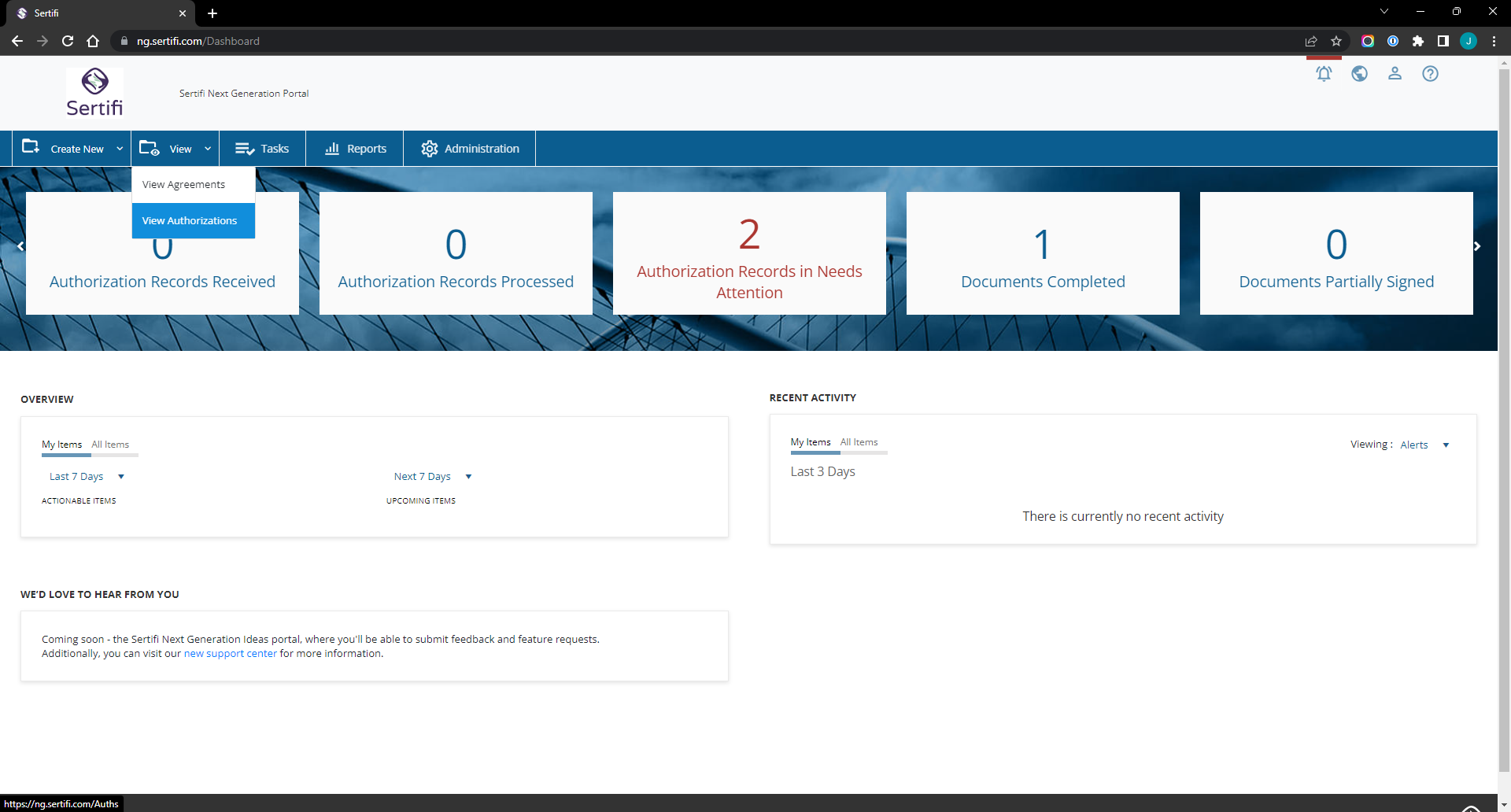 You'll then be brought to the View Authorizations search page.

The Admin role will only have the My Items option which will displays the authorizations that the Admin has sent themselves.

The Power Admin and Super Admin roles will have the option to click All Items in order to view all authorizations sent through the portal.
From here, your authorization will be listed under one of three statuses:

Pending, which is the default status for an authorization request. This usually indicates that your participant hasn't taken any action on the request yet.

Needs Attention, which means the authorization was completed and needs to be processed. This means the card needs to be pulled from Sertifi and entered in the property management system.

Processed, which means you or someone on your team has received and processed the authorization request.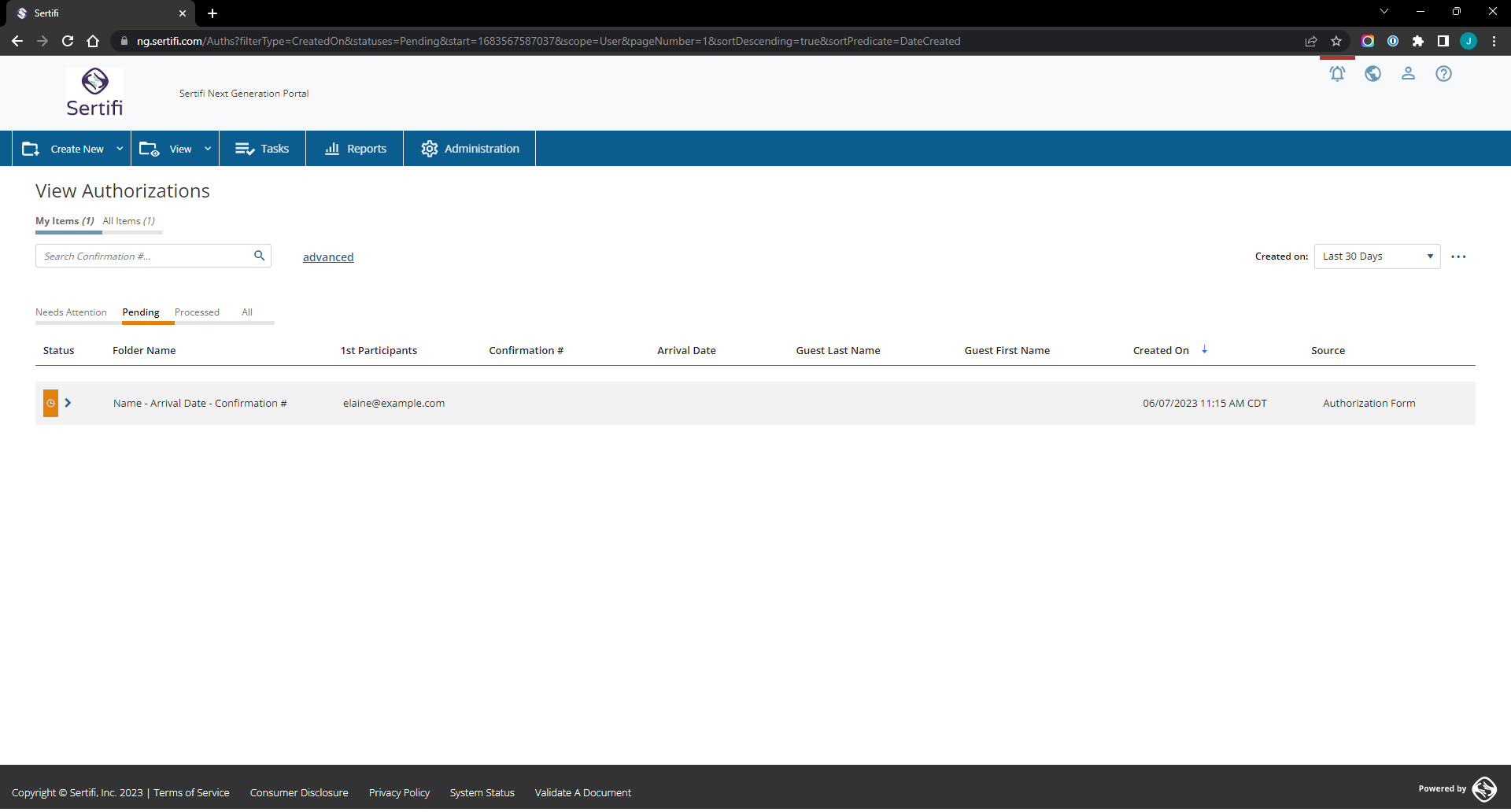 Click on the caret icon (>) next name of the folder containing your authorization which needs reviewing to open the dropdown.
From here, you have access to the following information:

Signed Authorization Form:  Review to collect all necessary information (billing instructions, guest information, card holder information, etc.)

Guest Information: This information is used for the PMS integrations Sertifi currently has available.  If you do not have one of our PMS integrations, this section will not play a factor.

AVS and Fraud Score: Click the information icon (i) to learn more about either tool. If your fraud score is a D or F, Sertifi suggest taking the necessary precautions to prevent a chargeback scenario. Review Sertifi Chargeback Prevention Tips.

Credit Card on File: Click View CC to collect full credit card information and enter in your Property Management System.  This access must be provided by your Super Admin.

Mark as Processed: After collecting and entering the necessary information in your property management system, click Mark as Processed to notify all users this authorization has been completed.
Click View, and then View Authorizations. Navigate to the folder you'd like to update, and then click on the folder name.
Navigate to the folder you'd like to update, and then click on the folder name.

You'll then be brought to the Folder Maintenance page for the folder you selected.
To update a participant's email address:
Click the blue pencil icon next to the participant's name.

Enter the new email address.

Click the checkmark icon to save.

Optional, but recommended – click the blue envelope icon to send an invitation to the participant's new email address.
To remove a participant, click the red X circle icon next to a participant's name.
View/Unmask Credit Card Information
In the Folder Maintenance page, find the authorization for which you'd like to see credit card information.

On the right, underneath the Action column, click the blue eye icon.

A verification window will pop up, prompting you to enter a PIN number. This PIN number will be sent to the email address associated with your Sertifi account.

Enter the PIN number. You'll then have 60 seconds with which to view credit card information.