You can switch between Sertifi Next Generation and Sertifi Classic as often as you need or want.
Note
Super Admins now have access to an interface choice setting for their portal. This setting allows Super Admins to select the interface their portals will use - Classic, Next Generation, or Admin Choice. Admin Choice enables individual Admins to determine which interface they would like to use. This setting can be found in Account Settings.

If your portal is currently set to Sertifi Classic and you want to switch to Sertifi Next Generation, log in like you normally would using your login credentials. Click "Switch to Sertifi Next Generation" located in the upper right corner of the Dashboard to start discovering the new UI.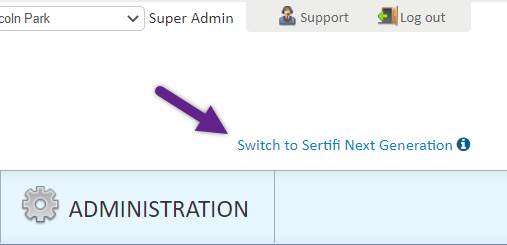 If you'd like to revert to Sertifi Classic, navigate to "My Profile" and click "Switch to Sertifi Classic" within the pop-out window.